2-Minute Talks:

What's Next for People Ops
Wednesday, December 14th at 1 - 2 pm ET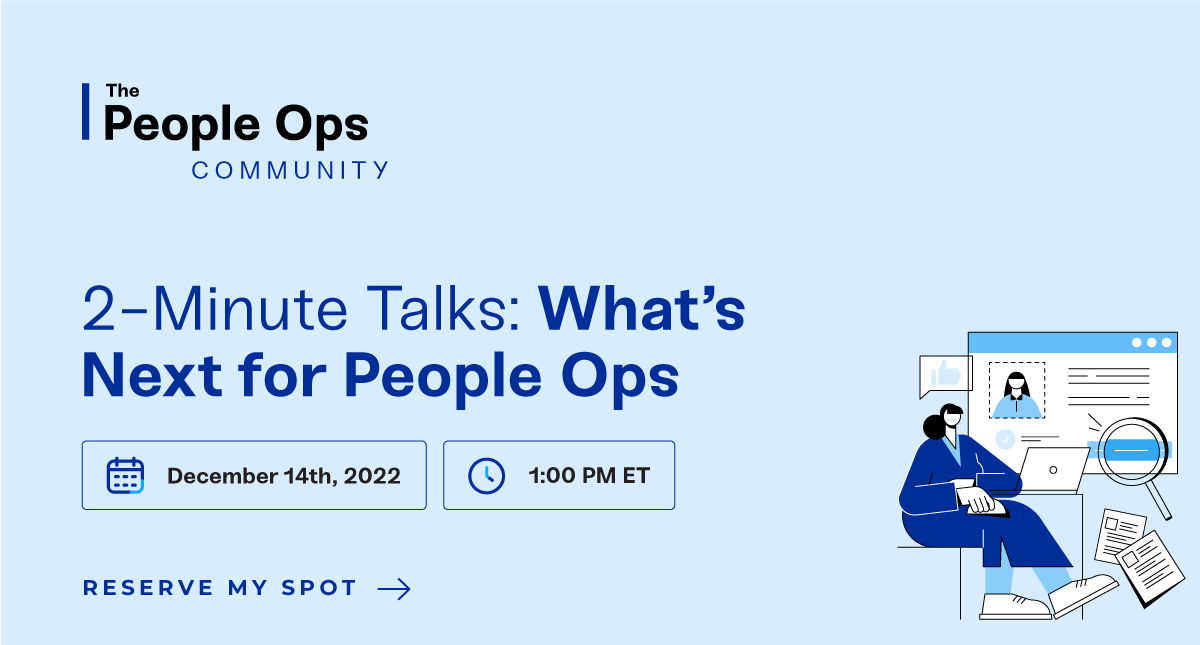 A selection of hand-picked experts have 120 seconds and 1 slide to share what they think will happen in the field in the year 2023.
Hear from:
Marie Krebs - People Product Lead @ Learnerbly
Lavinia Mehedințu - Founder & Community Manager @ Offbeat Works
Morgan Williams - VP of People @ The Newsette
Melanie Naranjo - VP of People @ Ethena
Darcy Marie Boles - Remote-First Workplace Consultant
Mary Jantsch - Head of Talent @ Elpha & writer of List the damn salary range
Christie Williams - VP of Employee Success @ Softdocs
Mikaila Read - Remote Experience Manager @ Mezmo
Noah Warder - VP of People @ Guusto & 2nd Annual People Pioneer
Kim Rohrer - Head of Employee Experience @ Oyster
David Hanrahan - Advisor, former CPO @ Eventbrite
Jen Paxton - VP of People @ Smile.io & 2nd Annual People Pioneer

Vanessa Tanicien - Dir of Product Strategy & Ops @ LifeLabs Learning
It's everything a webinar is not. With limited time to share, our experts will have to make their point fast.

So grab your breakfast, lunch, or dinner (depending on where you are in the world) and tune in to an hour of fun & forecasting.
Register now to save your spot
By registering, you're subscribing for the People Ops Weekly (a 5-minute Friday email with curated ideas, stories, insights and jobs) – as always, you can unsubscribe any time.